Hein is new to bolt action rifle reloading, and asked me to make suggestions in terms of what equipment to buy. This is my response to Hein, and all other beginner rifle reloaders who are wondering what their equipment layout should look like as a start.
Below you can see what the "ultimate high speed precision reloading setup" looks like, courtesy of Outdoorlife. What they did here is assemble the most expensive items for rifle reloading that money can buy and put them on the same table. This is highly impractical. From all the fantastically complicated and expensive equipment shown on that table, the only items useful to you for your initial reloading setup are the case loading blocks and the digital vernier.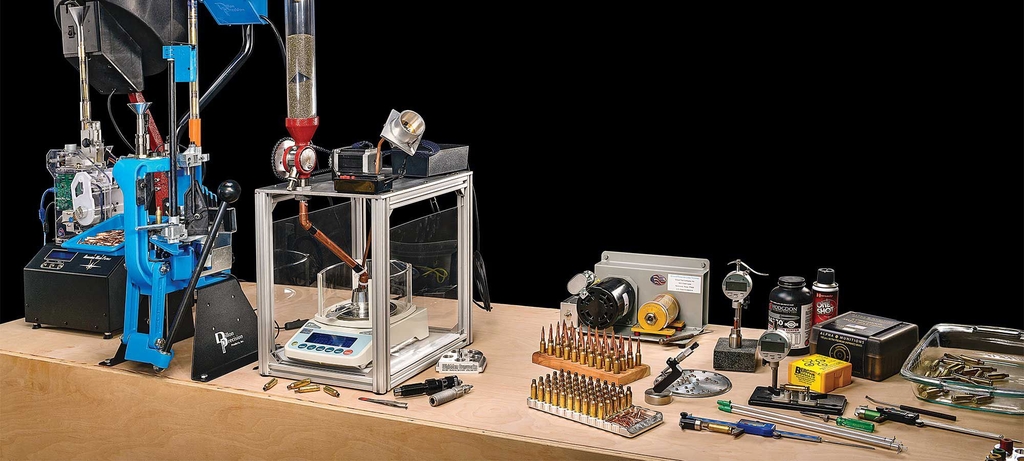 Moving on - the items are listed in this write-up are based on my own opinions developed over time on particular model or brand, and how they address the relevant issues you will face as a reloader. Some reloading items have flash, but don't work as well you will need, and are a waste of time.
You will need to buy :
Case Tumbler with media and sifter
What I do not recommend anybody doing, is going out and buying a reloading kit. It seems cheap. It is not. It may seem like a good idea at a good price, but you will not use all the items in any kit you buy, and you will need to
replace several of the included items with items of better quality or superior application for purpose
buy additional items anyway that are not part of the kit which you cannot reload without
With this list, you can confidently put together what you will need, and if you are on a tight budget, with patience and by looking around, find good quality, good condition second-hand items for a good price.
You have probably been told and / or read in many places online how cheap it is to reload. You are being mislead. Subterfuge. Reloading and equipment is expensive, but not as expensive as Outdoorlife would have you believe. The only thing cheap about reloading is the price comparison of a reloaded round to factory ammo. Reloaded ammo is definitely cheaper than factory ammo when you only consider the loaded round component costs. Getting to the point where you can produce reloaded ammo that is as good or better than factory ammo, takes a lot of time and not a little money.